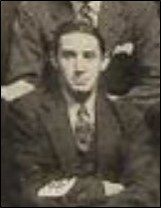 Biography
Tishup, Victor. (Tiship); Mother E. Tiship; b. August 1, 1915, Cecil Park, New York; AMB?; Graduated from Cornell University with a BS; ROTC 1 yr.; Single; Biologist, Laboratory Technician, Student, and Entomologist; YCL 1936; Received Passport# 431456 on June 5, 1937 which listed his address as 1539 Morris Avenue, Bronx, New York; Sailed June 16, 1937 aboard the Aquitania; Arrived in Spain via Massanet on June 28, 1937; Trained with the 2nd Battalion of Instruction and Mackenzie-Papineau BN in training to the front August 1, 1937; Served with the XV BDE, Lincoln-Washington BN, machine gunner; Various hospital after recovery as clinical technician; Transferred June 2, 1938 to 15th Army Corps Valls Hospital as a clinical laboratory technician; Served at Quinto and Belchite; WIA September 7, 1937 at Belchite, grenade splinter in the face; Contracted Typhoid at some point, likely the end of December 1937, and was in Benicasim for 4 months; Returned to the US on December 20, 1938 aboard the Ausonia; WWII Armed forces; d. April 4, 1988, Putnam Valley, New York.
---
Sources: Sail; Scope of Soviet Activity (under Tiship); Cadre; Figueres List; Mac-Pap; RGASPI. Fond 545, Opis 6, Delo 51, ll. 12-13, Letter from BDE to Phill Bard, FALB, September 15, 1937; Opis 6, Delo 1002, ll. 49-53. Code A
---
Photograph: Victor Tishup, school photo, L-W Tree Ancestry.