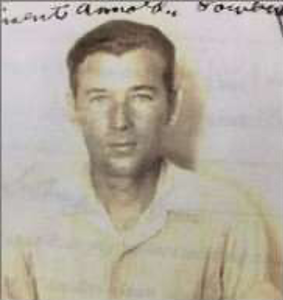 Biography
k-Powers, Vincent Arnold. b. June 10, 1910, Cambridge, Suffolk County, Massachusetts; Father Henry Powers (b. 1872 Maine, d. 1937); Survey Rodman and Chainman; Received Passport# 30314, San Francisco series, on July 8, 1937 which listed his address as 518 Crane Boulevard, Los Angeles, California; Sailed July 28, 1937 aboard the Washington; Arrived in Spain via Espolla on August 8, 1937; Served with the XV BDE, Lincoln-Washington BN; Rank Soldado; Killed in action April 3, 1938, Gandesa, during the Retreats.
---
Sibling: Mrs. Mary Morris.
---
Sources: Scope of Soviet Activity; BN 58 Retreats; Figueres List.
---
Photograph: Vincent Arnold Powers, Passport Photograph, 1937.