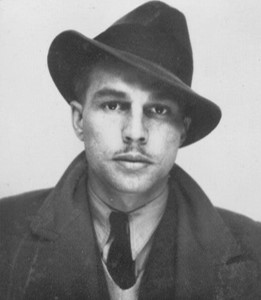 Biography
Lossowski, Vincent. b. September 17, 1913, Rochester, New York; Prior military service with the US Army, 1st Coastal Artillery, Anti-Aircraft, Fort Randolph, Panama Canal Zone, March 1932-March 1935, Rank SGT; Single; Mechanic; YCL December 1936; Received Passport# 449105 on June 23, 1937 which listed his address as 882 Hudson Avenue, and 117 Durnant Street, both Rochester, New York; Sailed July 3, 1937 aboard the Berengaria; Arrived in Spain via Espolla on July 31, 1937; Served with the XV BDE, Lincoln-Washington BN, observer, served at Quinto and Belchite; WIA left leg; In hospitals Reus and Benicasim from September 2-November 10, 1937; Artillery with 129th BDE, First officer; Mosquervela, Linades, Torrejas with artillery; Rank Teniente; Returned to the US on February 4, 1938 aboard the President Harding; WWII Served in the OSS in North Africa, later transferred to the US Army, Rank Captain; Wife Helen Lossowski; d. February 28 (8), 1984, Rochester, New York; buried Arlington National Cemetery, Arlington, Virginia.
---
Biography:
Vincent Lossowski (1913 - 1984) was born and raised in Rochester, New York in a Polish working-class family. As a young man, he served in an artillery unit with the United States Army's Coast and Harbor Defenses in Panama. He returned to Rochester, worked as a machinist and, in 1936, became active in the Young Communist League. A newsreel graphically depicting the fascist bombing of Madrid incited Lossowski to join the International Brigades to defend the Spanish Republic. He sailed for France in July 1937 on the S.S. Berengaria and from there crossed the Pyrenees into Spain. From August 1937 until September 1938 he served with the Abraham Lincoln Brigade as a battalion observer and artillery firing officer, attaining the rank of lieutenant. Soon after his arrival, Lossowski took part in the battles of Quinto and Belchite. He was wounded in the latter conflict and hospitalized at Benicasim in September 1937. He returned to active duty in November of that year, participating in the Teruel Offensive during the winter of 1938 and the long series of retreats that lasted into the fall. Lossowski was repatriated in February 1939 following the withdrawal of the International Brigades. Back in the United States Lossowski worked at the Brundy Engineering plant in the Bronx, and, in September 1939, took part in a United Electrical, Radio, and Machine Workers strike when contract negotiations broke down over a closed-shop provision. After serving briefly in the Coast Guard, Lossowski, along with a half dozen fellow Lincoln Brigade veterans, was recruited to join the Office of Strategic Services (OSS) in 1942. During WWII he served behind enemy lines in North Africa and Italy under the direction of General William Donovan helping to organize anti-Nazi guerrilla actions. He left the Army at the rank of Captain in 1945 and was presented with the Legion of Merit. He returned to Rochester, married, and raised three children with his wife, Helen. In the 1950s Lossowski was investigated by the Congressional Military Affairs Subcommittee because of his activities in Spain and his ongoing association with the Veterans of the Abraham Lincoln Brigade (VALB), cited by the Subversive Activities Control Board as a Communist-front organization. In his later years, Lossowski granted interviews and gave lectures to local college groups about the International Brigades and American participation in the Spanish Civil War. He remained an active member of VALB until his death in 1984 at the age of 70.
---
Sources:
Sail; Scope of Soviet Activity; Cadre; Figueres List; RGASPI Fond 545, Opis 6, Delo 937; ALBA 071 Vincent Lossowski Papers; L-W Tree Ancestry; Find-a-Grave #49249526. Code A
---
Photographs:
Vince Lossowski, from his VALB identification card, ALBA. Vince Lossowski, Panama Canal Zone. Veterans of the Abraham Lincoln Brigade Photograph Collection; ALBA Photo 15; Series I Photographs 1930s-1990s, Box 2, Folder 46. Tamiment Library/Robert F. Wagner Labor Archives. Elmer Holmes Bobst Library, 70 Washington Square South, New York, NY 10012, New York University Libraries.
---