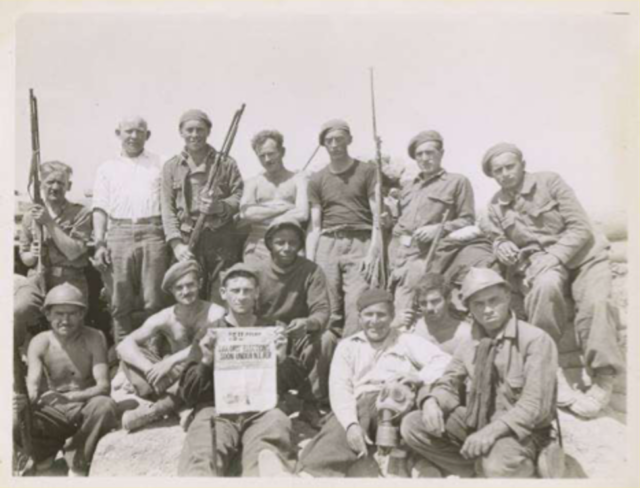 Biography
Morris, Virgil Lanny. b. October 15, 1911, Athena, Oregon; Elementary school education; Single; Seaman, Longshoreman and Painter; IWW; Received Passport# 369063 on January 6, 1937 which listed his address as 111 North Hancock Street, Portland, Oregon; Sailed January 9, 1937 aboard the Lafayette; Arrived in Spain on January 19, 1937; Served with the XV BDE, Lincoln BN, Co. 2, Section 1, Section Leader; Post Pingarron MG Co.; Frequently in penal company; Returned to the US on January 20, 1939 aboard the Aquitania; WWII Armed Forces; d. February 19, 1990, buried in Willamette National Cemetery, Portland, Oregon; Wife Doris R. Morris; Noted as a disrupter in the line and suspected as provocateur; Sent to jail; Was in Chinchilla prison, released because of illness and sent to villa Maruja.
---
Sources: Sail; Scope of Soviet Activity; Lincoln (under Morris [no first name]); Voros- Jarama; RGASPI Fond 545, Opis 6, Delo 849, ll. 1, Special List for Personnel Service, I. Political Susect and Bad Element List, January 16, 1938; Anarchist; USSDA 2:0775, 57:0732; Pacific NW; Matt White "Wobblies in the Spanish Civil War" ASR (Anarcho- Syndicalist Review), 42/3,Winter 2005-6, p. 44; L-W Tree Ancestry; Find-a-Grave 3917218. Code A
---
Photograph: Virgil Morris standing third from right. Paul Burns collection.