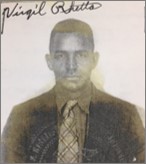 Biography
k-Rhetta, Virgil. b. July 1, 1909, Long Beach, California; African American; Father Boyd Rhetta (1870-1950), mother Myra (Brown) Rhetta (1888-?); Attended grade school in Calhour school in Alabama and at Nevis School, Graduated from Jefferson High School in 1929 and from Los Angeles Junior College in 1932; Single; Civil Engineer; CP; Received Passport# 33285 on January 21, 1938 which listed his address as 9233 Firth Boulevard, Los Angeles, California; Arrived in Spain via Agullana on February 15, 1938; Served with the XV BDE, Lincoln-Washington BN; Rank Soldado; Killed in action March 10, 1938, during the Retreats.
---
Siblings: brothers John A. Rhetta (1910-2004), Alfred Warren Rhetta, Jr. (1913-1974), sisters Clara Rhetta (1908-1994), Myra Rhetta (1915-2005).
---
Sources: Scope of Soviet Activity; BN 58 Retreats; Figueres List; Fond 545, Opis 6, Delo 971, ll. 13; African Americans, L-W Tree Ancestry. Code A
---
Biography:  Virgil Rhetta was born on July 1, 1909. Rhetta was a civil engineer and schoolteacher in California. A member of the Communist party he left for Europe in late January or early February 1938. Attached to the XVth International Brigade, Rhetta was killed on March 10, 1938. ~ Chris Brooks
---
Photograph: Virgil Rhetta, Passport Photograph 1938.