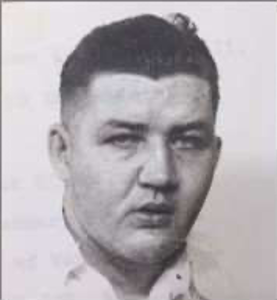 Biography
k-Palen, Waino. b. March 1, 1909, Cloquet, Minnesota; Finnish American; Father William Palen (1874-1928), mother Anna Ahrberg Palen (1883-1914); Received Passport# 471276 on August 18, 1937 which listed his address as 108 East First Street, Duluth, Minnesota; Sailed August 21, 1937 aboard the Britannic; Arrived in Spain via Massanet on September 5, 1937; Served with the XV BDE, MG training Co.; Later to XV BDE MG Co., then to Lincoln-Washington or Mackenzie-Papineau MG Co.; MIA March 17, 1938 Belchite, during the Retreats.
---
Siblings: sisters Ellen (Palen) Eskeli (1904-1953), Hulda (Palen) Hill (1905-1944), Limpi (Palen) Frisk (1911-1993) (also known by her adopted name as Ruby Frisk, married Clarence Hanson), Selma Palen (1905-1928), brother Hilmar Palen (1912-1939).
---
Sources: Scope of Soviet Activity; Figueres List; Finnish, MPE. Code A
---
Photograph: Waino Palen, Passport Photograph, 1937.