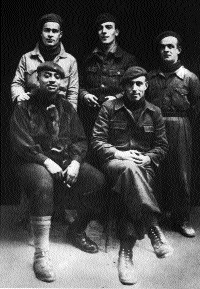 Biography
Garland, Walter Benjamin b. November 27, 1913, Brooklyn, New York; African American; High School education; Prior Service US Army, 1930, Rank PFC; Single; Studio Musician working on the Lucky Strike Program in the Orchestration Department; Spanish CP October 1937; Received Passport# 6907, New York series, on January 5, 1937 which listed his address as 511 Herkimer Street, Brooklyn, New York; Sailed January 5, 1937 aboard the Champlain; Arrived in Spain on January 10, 1937; Served with the XV BDE, Lincoln BN; WIA Jarama on February 23, 1937; After leaving hospital sent to Madrigueras as a trainer in March 1937; Attended first OTS class on April 5, 1937; Posted to the Washington BN, MG Co., Commander on June 5, 1937; WIA Brunete; Became temporary commander of the Mackenzie-Papineau BN (2nd BN of Instruction) while it was in training; Rank Sargento May 12, 1937, Alfarez May 25, 1937, and Teniente June 2, 1937; Returned to US for a propaganda tour; Returned to the US on November 9, 1937 aboard the Aquitania; WWII US Army, 731st Military Police BN, Rank Sergeant; d. January 7, 1974, buried in Pleasant Cemetery, Mount Sterling, Ohio.
---
Sources: Sail; Scope of Soviet Activity; Washington; RGASPI Fond 545, Opis 6, Delo 549, ll. 21 (fiche); Opis 6, Delo 894; ll. 98, 100-102; FBI; African Americans; L-W Tree Ancestry; Find-a-Grave# 89102306. Code A
---
Biography:  Walter Benjamin Garland was born in New York on November 27, 1913. At the age of eighteen he joined the U. S. Army and served for two years attaining the rank of Private First Class. Discharged he returned to New York where he studied mathematics at Brooklyn College for three years. From 1934-1936, he worked as an arranger and copying in the Orchestration Department of NBC on the Lucky Strike Radio Show. Garland joined the Communist Party in 1935 and was active in the National Negro Congress. An early volunteer for the International Brigades, he sailed for France aboard the Champlain on January 5, 1937. Because of his previous military experience, Garland was appointed Section Commander in the 17th International Column. Garland was wounded on February 27, 1937 during the attack on Pingarón Hill during the battle of Jarama. Once recovered, Garland was selected to attend Officer Training School and then placed in command of a machine-gun company in the newly formed Washington Battalion. After he recovered from another wound, received during the Brunete campaign, Garland took command of the Mackenzie-Papineau Battalion. In August 1937 Garland joined Langston Hughes and Harry Haywood in a radio broadcast back to the United States from Madrid. Two months later he was ordered home to tour and help raise funds for the Friends of the Abraham Lincoln Brigade, the American Medical Bureau and other organizations. He also traveled to Washington, D.C. in 1938 to lobby the State Department to lift the embargo on Spain. Garland worked in the Communist Party's Workers Book Shop in New York. In 1938 he ran as the Communist Party candidate for representative of the Sixth Congressional District of New York. Garland was also Communist Party candidate for the New York State Assembly from the 17th Assembly District, Kings County, Brooklyn, in 1940. In 1941 the FBI classified Garland among "individuals believed to be the most dangerous and who in all probability should be interned in event of war." Garland enlisted in the U.S. Army in World War II. In 1942 he was assigned to the 731st Military Police Battalion stationed at Fort Wadsworth, on Staten Island. There he was invited to give a presentation to a class of officers on the Brunete campaign. Garland taught mapmaking and scout car classes, mortar school, and machine-gun training. He also developed a new machine-gun sighting device for use on guns mounted on scout cars. Garland rose to the rank of First Sergeant but, despite repeated requests, was never allowed to go overseas. After the war Garland, along with fellow Spanish Civil War veteran, Bert Jackson, was instrumental in forming the United Negro Allied Veterans Association (UNAVA). Garland remained active in the Communist Party's Ben Davis Club in Harlem and worked as a national organizer for the International Workers Order. He also traveled with Paul Robeson in 1949, probably as a bodyguard. According to Garland's FBI File he was expelled from the Communist Party in 1952 and moved to Columbus, Ohio. He died near there in January 1974.
---
Photograph: Walter Garland seated left with Irish Volunteers. Seated right John Hunt; Standing left to right Peter O'Connor, P. McEvoy, & Johnnie Power four days prior to the Nationalist offensive at Jarama, February 1937. Photograph History Ireland.