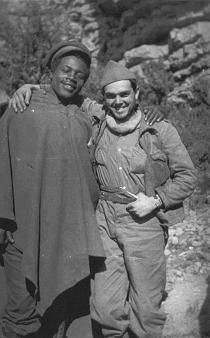 Biography
Callion, Walter P. (Callum, Walter); b. November 1, 1919, Meridian, Lauderdale, Mississippi; African American; Father Henry Callion (1878-?), mother Carrie Callion (1899-?); Single; Mechanic; YCL 1934, unit membership committee; Received Passport# 410135 on May 12, 1937 which listed his address as 2641 Adams Street, St. Louis, Missouri; Sailed May 26, 1937 aboard the Vollendam; Arrived in Spain via Setcases on June 15, 1937; Served with the XV BDE, Auto Park, Mechanic; Returned to the US on August 27, 1938 aboard the President Harding; WWII enlisted October 27, 1941 in the US Army, Rank First Sergeant; d. November 30, 1974, buried in the Jefferson Barracks National Cemetery, Lemay, St. Louis County, Missouri.
---
Source: Sail; Scope of Soviet Activity; Cadre; Figueres List; RGASPI Fond 545, Opis 6, Delo 544, ll. 4 (fiche under Callon); Opis 6, Delo 870, ll. 47, (ver arch gen americ); African Americans; Find-a-Grave# 81432304. Code A
---
Biography:  Born in 1919, Walter Callion worked as a mechanic and joined the YCL in 1934. He left for France aboard the Vollendam, on May 26, 1937. In Spain, Callion served as a mechanic attached to the XVth Brigade's Auto Park. Callion was wounded in battle and evacuated to France. While in Paris awaiting passage to the United States, he met Langston Hughes, who mentioned him in his dispatch to Afro-American dated September 24, 1938. Callion returned to the United States, on the President Harding, on August 27, 1938. During World War II, Callion served in the U.S. Army, first at Fort Sill, Oklahoma, and later at Fort Clark, Texas. Callion attained the rank of sergeant and was assigned to teach machine-gun operation. - Chris Brooks
---
Photograph: Walter Callion, chauffer and Auto Park mechanic near Teruel, January 1938. The 15th International Brigade Photographic Unit Photograph Collection ; ALBA Photo 11; ALBA Photo number 11-0067. Tamiment Library/Robert F. Wagner Labor Archives. Elmer Holmes Bobst Library, 70 Washington Square South, New York, NY 10012, New York University Libraries.