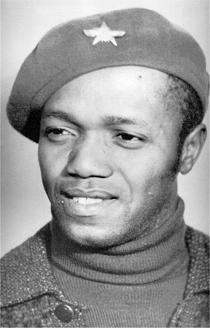 Biography
Cobbs, Walter
 b. March 2, 1914, Tupelo, Mississippi; African American; Grade school education; Father George Edward Cobbs Sr. (1898-?), mother Louella (Era) Cobbs (1903-?); Single; Driver, Cook, and Waiter; Food Workers Industrial Union; YCL 1937 (1931) Unit organizer and Secretary District Committee; Received Passport# 387778 (387788) on April 9, 1937 which listed his address as 4227-A Eastern (Boston) Avenue, St. Louis, Missouri; Sailed May 8, 1937 aboard the
American Importer
; Arrived in Spain via Massanet on May 31, 1937; Served with the 45th Division, XIV BDE, Auto Park; Transferred to 1st Regiment de Tren, driver; Last unit XV BDE, Auto Park/Transport, Driver, and Cook; Rank Soldado; Served at Brunete with XIV BDE, Teruel; Returned to the US on December 15, 1938 aboard the
Paris.
---
Siblings:
brothers Glynn Cobb (1915-?) and George Cobb (1925-?).
---
Source:
Sail; Scope of Soviet Activity; Cadre; Figueres List; XV BDE; Pay; RGASPI Fond 545, Opis 6, Delo 545, ll. 2 (fiche, Mac-Paps), Opis 6, Delo 874, ll. 14-20; African Americans; L-W Tree Ancestry. Code A
---
Box 2, Folder 23, 177_197042 [List of Names] Moscow Fond 545, Opis 5, Delo 197, ll. 42, Oct. 1938. This is a page from Folder 197: Album of 15th International Brigade Presented to the American Communist Volunteers of the 15th Brigade by the Communist Party of Spain. On a two page spread entitle
Declaration of the American Negro Comrades
eighteen individuals signed the second page.
---
Biography
Walter Cobbs was born in Tupelo, Mississippi on March 2, 1914. He completed grade school before he was forced to drop out of school to help support his family. Cobbs later moved to St. Louis, Missouri where he worked as a cook and a waiter. In 1931, Cobbs became active in the unemployed councils. He also participated in the movement in support of the Scottsboro defendants. In 1937 Cobbs joined the YCL and served as a delegate to the National Youth Congress. Cobbs left for Europe aboard the
American Importer
on May 8, 1937. Initially assigned as a cook to the XVth International Brigade's Auto Park, later, Cobbs served as a truck driver until the Brigades were disbanded in the fall of 1938. He returned to the United States on the
Paris
on December 15, 1938. Cobbs may have been killed in a car accident while traveling to a meeting with other Communists in the early 1950's. Among those mentioned as possible fatalities in that accident was Tom Brown, another black veteran of the Spanish Civil War. ~ Chris Brooks
---
Photographs:
Walter Cobbs; Veterans of the Abraham Lincoln Brigade Photograph Collection; ALBA Photo 15; Series I Photographs 1930s-1990s, Box 1, Folder 49. Tamiment Library/Robert F. Wagner Labor Archives. Elmer Holmes Bobst Library, 70 Washington Square South, New York, NY 10012, New York University Libraries; and below Cobbs in Spain, RGASPI Fond 545, Opis 6, Delo 874, ll. 14;
---