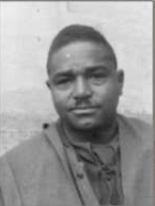 Biography
Dicks, Walter
b. October 20, 1898, Blackville, South Carolina; African American; Father Robert Dicks, mother Cleo Dicks; Elementary school education; No prior military service; Married Olivia Buchanan (1901-?) on March 14, 1925, children Edwina Dicks (1921-?), Walter Charles Dicks (1926-1999); Driver and Mechanic; CP August 1931; Received Passport# 377110 on March 22, 1937 which listed his address as 6419 Quincy Avenue, Cleveland, Ohio; Sailed October 4, 1937 aboard the
Rotterdam
; Arrived in Spain on April 27, 1937 (May 5, 1937); Served with the Albacete Auto Park, May 1937 to the 1st Evacuation Group in July 1937; September 1937 to 15th Corps Medical 35th Division Sanidad, Evacuation Group, Ambulance Driver; Served at Brunete, Belchite, Quinto, Teruel, Caspe, and Ebro Offensive; Returned to the US on December 15, 1938 aboard the
Paris
; d. March 16, 1967, Cleveland, Ohio, buried in Highland Park Cemetery, Highland Hills, Cuyahoga County, Ohio.
---
Source:
Sail; Scope of Soviet Activity; Cadre; RGASPI Fond 545, Opis 6, Delo 881, ll. 7- 26; African Americans; L-W Tree Ancestry; Find-A-Grave# 93887605. Code A Box 2, Folder 23, 177_197042 [List of Names] Moscow Fond 545, Opis 5, Delo 197, ll. 42, Oct. 1938. This is a page from Folder 197: Album of 15th International Brigade Presented to the American Communist Volunteers of the 15th Brigade by the Communist Party of Spain. On a two page spread entitle Declaration of the American Negro Comrades eighteen individuals signed the second page.
---
Biography:
Walter Dicks was born on October 20, 1898 in Blackfield, South Carolina where he completed grammar school. Dicks moved to Cleveland, Ohio where, in 1931, he joined the Communist party and subsequently attended regional and national party schools. In 1937, when he volunteered to serve in the International Brigades, Dicks was single and made his living delivering coal in the winter and ice in the summer. He received his passport on March 22, 1937 and sailed for Europe shortly thereafter. In Spain Dicks served as a truck and ambulance driver. Dicks saw action at Brunete, Belchite, Quinto, Teruel, the Retreats, and in the Ebro Offensive. Those who knew him in Spain noted that he exhibited proficiency and a cool head in the most trying situations. Dicks returned to the United States on December 15, 1938, aboard the
Paris
. He is believed to have died in Ohio in 1967.
---
Photographs:
Walter Dicks in Spain, RGASPI Fond 545, Opis 6, Delo 881, ll. 8; and Veterans of the Abraham Lincoln Brigade Photograph Collection; ALBA Photo 15; Series I Photographs 1930s-1990s, Box 1, Folder 63.
Tamiment Library/Robert F. Wagner Labor Archives. Elmer Holmes Bobst Library, 70 Washington Square South, New York, NY 10012, New York University Libraries.
---