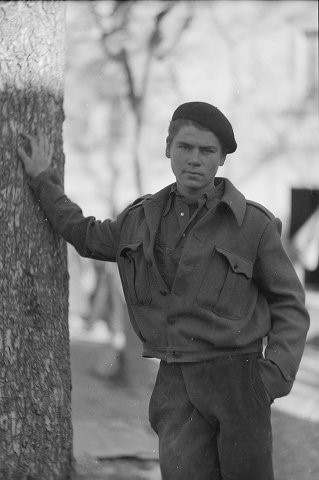 Biography
k-O'Kane, Walter Elmer ("Kid"); b. July 28, 1907, Dixon, Illinois; Grammar School education; Single; Seaman (NMU) and Longshoreman; YCL 1935 (1937), CP; Received Passport# 30101, San Francisco series on June 29, 1937 which listed his address as 2335 Northwest Gilsan, Portland, Oregon, and Dixon, Illinois (607 E. Chamberlain, Liton, Illinois); Sailed July 14, 1937 aboard the Aquitania; Arrived in Spain via Agullana on July 25, 1937; Served with the XV BDE, Mackenzie-Papineau BN; Lincoln-Washington BN, Transmissiones; Rank Soldado; Reported MIA April 3, 1938 near Gandesa during the Retreats; Was arrested by civil police on February 8, 1938 after leaving the train station in Valencia to get food, was confined in the Guardia National until released to rejoin his unit.
---
Sources: Scope of Soviet Activity; BN 58 Retreats; Cadre; Figueres List; Mac-Paps; RGASPI Fond 545, Opis 6, Delo 957, ll. 61, details of his arrest on February 8, 1938; Pacific NW. Code A
---
Biographical Information: Reed Pacific North West Project, CAT I O'KANE, Walter Elmer [Ross pg. 79. Honor Roll pg. 210. Died Gandesa April 38 [ca1917-1938] O'Kane is on the Passport/Sailing Lists with the address of 2335 NW Glisan, Portland, Oregon. He was issued Passport No. 3001 (San Francisco Series) at age 20, and sailed 7/14/7 on the Aquitania. Also on board, among others, were Irving Portnow, Joseph Perlman and Nick Vukelich. His is on the list prepared by HUAC Sub-Committee in 1939 on its investigation of "Scope of Soviet Activity in the United States – Veterans of the International Brigades." Unfortunately, he did not survive to be a "Veteran." His death is noted on the FALB cards in the National office of the Vets in New York. Photos in this collection are Brandeis number B198 taken in December 1937 with the caption "Walter "Kid" O'Kane, Transmissiones" and Brandeis No. B25, taken in Nov. 1937 with caption "Walter O'Kane, Transimissiones." (12/13/92 – Reed) IBM
---
Photograph: Walter "Kid" O'Kane, Transmiciones, December 1937. The 15th International Brigade Photographic Unit Photograph Collection; ALBA Photo 11; ALBA Photo number 11-0934. Tamiment Library/Robert F. Wagner Labor Archives. Elmer Holmes Bobst Library, 70 Washington Square South, New York, NY 10012, New York University Libraries.