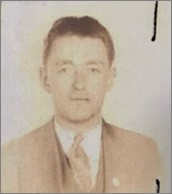 Biography
k-Grant, Walter Fairbanks
b. February 8, 1909; Jarama Lost Trucks; Father Martin Lee Grant (1877-1955), mother Margaret Laura Lawrence (1876-1959); Graduated with both a MA and BA from the University of Indiana; ROTC; Associate Professor and WPA writer's project; Received Passport# 35594 on December 5, 1936 which listed his address as 265 West 22nd Street, NYC; Sailed December 26, 1936 aboard the
Normandie
; Served with the XV BDE, Lincoln BN; KIA February 16, 1937, Jarama, was aboard one of two trucks that strayed into Nationalist lines on the approach march to the Jarama Front.
---
Siblings:
brothers Martin Lawrence Grant (1907-1968), Clifton Phillip Grant(1910- 1990), Robert Yates Grant (1917-2008), and Donald Lee Grant (1919-1988), sisters Magaret Louise Grant (1904-1927), and Charlotte Alida Grant (1912-1997).
---
Sources: Scope of Soviet Activity; USSDA 2:0599, 55:0094. https://wthhistory.wordpress.com/2011/10/19/the-bell-tolls-at-jarama/ Code A
---
Biography: Walter Grant, the son of a Congregationalist Minister, was born in Marion, Indiana, in 1912. When he was eighteen a Ku Klux Klan mob lynched three black men in his town. This event was to dramatically change his conservative political views and he became a campaigner for social justice. After graduating from Indiana University he taught English until being made redundant. He moved to New York in search of employment and found work on the Federal Writers Project. Soon afterward he joined the American Communist Party. On the outbreak of the Spanish Civil War, Grant joined the Abraham Lincoln Battalion, a unit that volunteered to defend the Popular Front government against the Nationalist Army. Grant was killed when the truck he was traveling on to the Jarama Front took a wrong turn and strayed into Nationalist territory. - Courtesy of Spartacus Educational
---
Photographs: Walter Fairbanks Grant, Passport Photograph, 1936, college photograph, from wthhistory.wordpress.com.
---