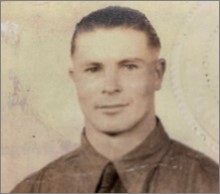 Biography
k-Wilhela, Werner Jalmar b. February 17, 1911, Oulu, Bayfield, Wisconsin; Finnish American; Father Jacob Johanss Wilhela (1875-1941), mother Johanna Antintytr (Kemppainen) Wihela (1877-1921); Single; Woodsman, Millman, Farmer, and Driver; CP 1933 and YCL 1928; Received Passport# 399989 on April 28, 1937 which listed his address as RFD #1, Iron River, Wisconsin and Oulu, Wisconsin; Sailed May 12, 1937 aboard the Aquitania; Served with the XV BDE, Mackenzie-Papineau BN, MG Co.; WIA at Teruel; Recovered from his wound but was struck and killed by a truck the day he was discharged on February 20, 1938 at Benicasim; Officially reported killed in action at Brunete on July 19, 1937, published in the Daily Worker as February 20, 1939.
---
Siblings: brothers Eemili Theodor Wihela (1904-1981), Andrew Arthur Wihela (1906-1973), Oscar William Wihela (1907-1978), Wilho Valdemar Wihela (1909-1979), Johannes "John" Ilmari Wihela (1912-1931), Dauno "Dan" Axel Wihela (1914-1961), George Mathius Wihela (1916-1966), Reino Edwin Wihela (1921-1996), sister Martha Johanna Wihela (1921-1921).
---
Sources: Scope of Soviet Activity; Mac-Pap; Finnish; MPE; L-W Tree Ancestry. Code A
---
Photograph: Werner Jalmar Wihela, Passport Photograph 1937.