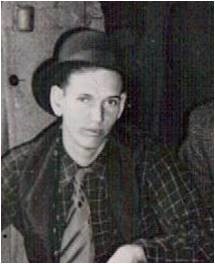 Biography
Howard, Wesley (Lesley); b. October 26, 1916, Dover (Maysville), Kentucky; Father Ernest Howard (1893-1957), mother Myrtle Jane (White) Howard (1897-1930); Seaman (NMU); Received Passport# 484099 on November 10, 1937 which listed his address as 4711 Beauford Avenue, Baltimore, Maryland, and RFD No. 1, Dover, Kentucky; Sailed November 17, 1937 aboard the Washington; Arrived in Spain via Espolla on November 29, 1937; Served with the XV BDE, Lincoln-Washington BN, Co. 2; Rank Soldado; Returned to the US on December 15, 1938 aboard the Paris; Married Mary F. Howard (1919-?), daughter Alice Howard (1939-?); d. July 12, 1965, Lexington, Kentucky, buried in Washington Baptist Cemetery, Maysville, Ohio.
---
Siblings: brothers Thomas Howard (1917-?), Robert Lee Howard (1919-?), James Hanley Howard (1922-1922), William Robert Howard (1924-1924), Frank L. Howard (1926-?), and Earnest Howard (1930-1930); sisters Violet Margaret Howard (1927- 1990), infant daughter (1929-1929), Ernest II Howard (1929-1929); and Nora Marie Howard (1930-1930).
---
Sources: Sail; Scope of Soviet Activity; BN 58 Retreats; Figueres List; Pay; RGASPI Fond 545, Opis 6, Delo 912; L-W Tree Ancestry. Code A
---
Photograph: Wesley Howard. From a group photo of volunteers returning aboard the Paris December 15, 1938. Veterans of the Abraham Lincoln Brigade Photograph Collection; ALBA Photo 15; Series I Photographs 1930s-1990s, Box 1, Folder 131. Tamiment Library/Robert F. Wagner Labor Archives. Elmer Holmes Bobst Library, 70 Washington Square South, New York, NY 10012, New York University Libraries.