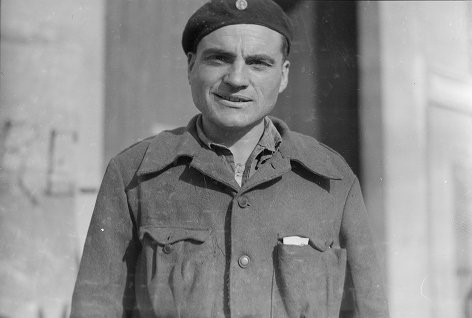 Biography
Chapin, Wilfred (Chapin/Chappin, Milford/Wilfred/Milferd; "Blacky", "Idaho"); b. March 3, 1908 Missoula, Montana; Education through the 8th grade; Separated or Divorced; Lumberjack and Autobody Worker; CP 1934; (NOK Idaho); Arrived in Spain via Espolla on June 2, 1937; Served with the XV BDE, Mackenzie-Papineau BN, Cook; Returned to the US on June 18, 1938 aboard the President Roosevelt; WWII US Army, Tech; d. November 26, 1969, buried Greenwood Cemetery, Kellogg, Shoshone County, Idaho.
---
Source: Scope of Soviet Activity; Cadre; Figueres List; Mac-Paps; XV BDE; RGASPI Fond 545, Opis 6, Delo 544, ll. 37 (fiche) and 64 (under Chopin, ver ar gen can); Pacific NW; Find-a-Grave# 14655043 (under Milferd Arthur). Code A
---
Photograph: Milford Chapin, Mackenzie-Papineau cook, December 1937. The 15th International Brigade Photographic Unit Photograph Collection; ALBA Photo 11; ALBA Photo number 11-0654. Tamiment Library/Robert F. Wagner Labor Archives. Elmer Holmes Bobst Library, 70 Washington Square South, New York, NY 10012, New York University Libraries.