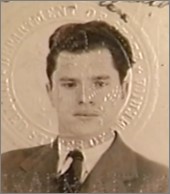 Biography
Van Felix, William Crane
(Crane, William Van Felix); b. April 3, 1914 (April 4, 1916; March 3, 1916), NYC; Father Szczecinski; CoB; Single; Engineer and Technician in a Radio Factory; YCL 1931, branch organizer (CP), UERW; Received Passport# 387875 on April 10, 1937 which listed his address as 1493 Coney Island Avenue, Brooklyn, New York (35 Colin Place, Brooklyn, New York); Arrived in Spain on May 30, 1937; Trained at Madrigueras as an Instructor teaching Engineers until September 1937; Served with the XV BDE, Mackenzie-Papineau BN, Plaza Mayor, Transmissions, BN 59, Transmissions, Lincoln-Washington BN, Transmissions, BDE, Transmissions, last unit Lincoln-Washington BN; Rank Cabo; Served at Fuentes de Ebro, Seguro de los Banos, the Retreats (Belchite, Caspe, Gandesa), and Ebro Offensive; WIA August 19, 1938, Hill 666, Sierra Pandols, in hospital for three months at San Colomas, Vich and Sagoro; In a French Concentration camp prior to returning to the US; Returned March 3, 1939 aboard the
Manhattan
; WWII Merchant Marine, Radio officer, Ensign, Torpedoed; Won Merchant Marine Combat Medal and Atlantic War Zone Medal; Coast Guard; d. 2002.
---
Sources:
Scope of Soviet Activity; Cadre; Pay; RGASPI (under Felix and Van Felix) Fond 545, Opis 6, Delo 1005, ll.17-20; Letters Robert Coale to editor,
The Volunteer
, Volume 24, No. 4, December 2002, pp. 2, 22; (obituary) Moe Fishman, "William' 'Bill' Van Felix 1916-2002,"
The Volunteer
, Volume 24, No. 4, December 2002, p. 20. Code A
---
Biography
William Van Felix (1916-2002) was a native New Yorker and a radio technician. An Italian submarine torpedoed the ship that carried Van Felix and other volunteers from Marseilles to Barcelona in 1937. Many casualties ensued; however Spanish fishermen rescued Van Felix as he swam for shore. Van Felix was assigned to a communications unit in Spain. When standard communication systems broke down, he served as a runner to deliver messages. - Courtesy of Tamiment Library, NYU.
---
Photographs:
William Van Felix, Passport Photograph, 1937; William Van Felix and Ernest Amatniek, undated. The 15th International Brigade Photographic Unit Photograph Collection; ALBA Photo 11; ALBA Photo number 11-0545. Tamiment Library/Robert F. Wagner Labor Archives. Elmer Holmes Bobst Library, 70 Washington Square South, New York, NY 10012, New York University Libraries; and Van Felix in 1945.; Bill Van Felix, April 26, 1997, by Richard Bermack.
---