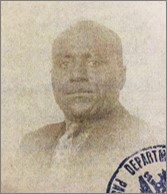 Biography
White, William Edward b. June 28, 1892, Morton, Pennsylvania; African American; Father William A. White (1864-?), sister Ruth Ella White; Possibly served in WWI; CP 1933; Received Passport# 6898, New York series, on December 23, 1936 which listed his address as 800 Home Street, Bronx, New York and 1912 Westmorland Street, Philadelphia, Pennsylvania; Sailed December 26, 1936 aboard the Normandie; Served with the XV BDE, Lincoln BN at Jarama; Evacuated due to shell shock; Repatriated age; Returned to the US on November 23, 1937 aboard the Berengaria; d. February 1979.
---
Sources: Sail; Scope of Soviet Activity; Lincoln; Repatriation List (10/28/1937, ll. 21); RGASPI Fond 545, Opis 6, Delo 849, ll 28, List of American Comrades that have been Repatriated as per October 15 1937; USSDA 2:1043, 61:0829; African Americans.1012 Code A
---
Biography: William Edward White was born in Morton, Pennsylvania, on June 28, 1892. White had ten months of military service. A plumber by trade, he joined the Communist Party in 1933. Together with Alonzo Watson, he was one of two black volunteers among the first group of ninety-six who left New York, on the Normandie, on December 26, 1936. White served in the Lincoln Battalion. In late June 1937, after several months on the front lines, White was hospitalized at Villa Paz and treated for 'shell shock.' White was repatriated aboard the Berengeria on November 23, 1937. White died in 1979. ~ Chris Brooks
---
Photograph: William Edward White Passport Photograph, 1936.