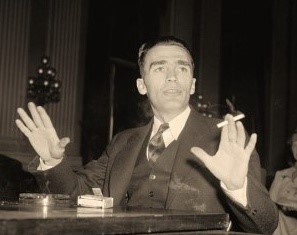 Biography
Swan, William Gary Ryan. (William G. Ryan, William C.); Married; POCT, CP 1928; Received Passport# 382097 on March 31, 1937 which listed his address as 4227 North 19th Place, Milwaukee, Wisconsin; 36 years old; Arrived in Spain on May 30, 1937; Served with the XV Brigade, Lincoln-Washington Battalion; Served time in a SIM prison; Swan deserted and stowed away on aboard the SS Lake Geneva arriving in Hull, England on April 24, 1938; He was convicted of entering the country illegally and served a six week sentence before being deported; WWII declared himself to be a conscientious objector and served time in a federal prison; Post-war joined the IWW and served as the editor of the IWW journal Industrial Worker from 1950-51; Article indicates that his wife was a nurse in the Red Cross and had served in Spain.
---
Sources: Scope of Soviet Activity; Cadre (under Swan, Wm. Gary); XV Brigade, Matt White "Wobblies in the Spanish Civil War" ASR (Anarcho-Syndicalist Review), 42/3,Winter 2005-6, pp 44-5. [May be two different volunteers], "Hull Court Told of Spanish War Hardships," [Hull] The Daily Mail, July 6, 1938, p. 1 (under William Garry Swan).
---
Photograph: William Ryan (Swan) testifying before the Dies Committee. Web oldsaltbooks.wordpress.com.