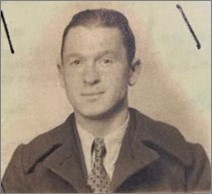 Biography
Gandall, William Paul. ("Wild Bill"); b. October 4, 1908, Brooklyn, New York; Russian American; Father Paul Gandall (b. Russia 1880-1965), mother Jean Gandall (1893-?); Prior military service as a Marine in Nicaragua in 1926; Taxi Driver, Auditor; CP 1934 and Spanish CP; Received Passport# 358978 on December 29, 1936 which listed his address as 335 East 13th Street (parent's address), and 153 West 64th Street, both NYC; 30 years old; Sailed January 16, 1937 aboard the Paris; Arrived in Spain on January 28, 1937; Served with the XV BDE, Lincoln BN; Hospital Unit as an Ambulance Driver; Anti-Aircraft unit; Returned to BDE with Lincoln-Washington BN and later transferred to the British BN, Co. 2; Rank Soldado; Returned to the US on December 20, 1938 aboard the Ausonia; WWII US Army, Enlisted January 15, 1943, discharged May 28, 1946, stationed in England, Rank Corporal; d. March 23, 1991, Florida, buried Riverside National Cemetery, Riverside, California; Married to Mary Catherine McCabe (1917-1992).
---
Siblings: brother Mathew Gandall (1911-1996), sisters Frances E. Gandall Whitman (1908-?), Barb Gandall (1914-?), Pearl Ashelford Gandall (1915-1995).
---
Sources: Sail; Scope of Soviet Activity; Pay; RGASPI; ALBA PHOTO 248 Bill Gandall Photographs; Stephen Braun, "Life and Death of an Activist `Wild' Bill Gandall wanted his passing used to rally the faithful. It also offers an elegy for the dedicated political adventurers of a faded era." Los Angeles Time, April 13, 1991.
---
Photograph: Passport Application Photograph.