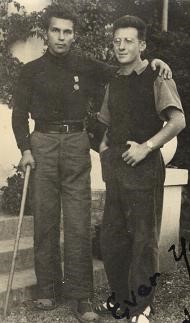 Biography
Cantor, William Harris
(Canto); b. July 5, 1916, New York, New York (January 4, 1916, Brooklyn, NY); Father Hyman Cantor (1884-1958), mother Ida Nachamovitz (1891-1947); Attended college for 1 year; Prior military service in the USMC Reserve 1 and 1/2 years; Single; Clerk and Seaman; YCL 1937; Sailed April 28, 1937 aboard the
Aquitania
; Arrived in Spain on May 30, 1937 after surviving the sinking of the
City of Barcelona
; Served with the XV BDE, Washington BN, Co. 3, Section 3; Mackenzie-Papineau BN; Appears to have been sent to the front as a replacement for Lincoln-Washington BN; Distinguished service at Quinto; Noted that after Belchite he deserted, going to Barcelona for 10 days, then reported voluntarily to the IB delegation and returned to XV BDE under guard; Considered fairly well rehabilitated but weak character and morale, fair work at Brigade since then; Wounded in leg and returned from hospital as of January 1938; Later deserted with a second volunteer and stowed away on a British ship; Married Francs Colow, (1919-1998) sister of veteran Maury Colow; Children Michael Cantor (1939-1994), and Alan Cantor (1944-2008); WWII Seaman; d. December 3, 1959, Brooklyn, NY, buried in New Montefiore Cemetery.
---
Siblings:
brothers Nathan Cantor (1914-1990), Israel Cantor (1919-2009), and Jacob Cantor (1923-2013).
---
Source:
Cadre; Mac-Paps; Washington; RGASPI Fond 545, Opis 6, Delo 849, ll. 2, Special List for Personnel Service, I. Political Suspect and Bad Element List, January 16, 1938; USSDA 2:0435, 53:0142; L-W Tree Ancestry; Find-a-Grave #149186142 [dob and pob are not a match on the seaman's application – confirm date.] Code A
---
Photographs:
Abe Osheroff and William Cantor. Courtesy Abe Osheroff; and below probable Seaman's Protection Certificate.
---