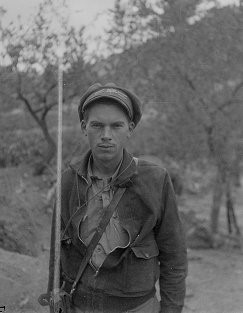 Biography
Wheeler, William Gilmore (J.) ; b. March 15, 1910, Philadelphia, Pennsylvania; father Joseph Wheeler, mother Mina Wheeler (1884-?); 2 years of correspondence courses from New York State College of Agriculture; Single; Farmhand on family farm and Truck Driver; CP November 1934 and International Labor Defense 1934; Received Passport# 358111 on December 21, 1936 which listed his address as 244 East 23rd Street, and 123 (125) West 45th Street, both NYC; Sailed December 26, 1936 aboard the Normandie; Arrived in Spain on January 3, 1937; Served with the XV BDE, Lincoln BN, Co. 1, Section 1, Section Leader; Wounded at Jarama; OTS; Mackenzie-Papineau BN, Co. 1, Company Commander; Pulled back to OTS as Head of school; was repatriated before going into action with the Mackenzie-Papineau BN; Repatriated political; Returned to US November 1937 for a speaking tour then back to Spain via Massanet on May 29, 1938; Lincoln-Washington BN, Co. 4; In September he was serving with Co. 3 according to a sworn statement reporting the capture and presumed execution of a number of American volunteers in the company; Rank Teniente; Ebro Offensive; Returned to the US on December 20, 1938 aboard the Ausonia; WWII US Navy, North Atlantic, rank Motor Machinist Mate 2nd Class; Married Lane Wheeler, daughter Lauren Wheeler Harris; d. December 28, 1998 in Athens, Georgia, cremated by the National Cremation Society in Athens, Georgia and a memorial service was held at the UU Church in Athens.
---
Sources: Sail; Scope of Soviet Activity; Figueres List; Mac-Pap; Repatriation List (10/18/1937, ll. 12); RGASPI Fond 545, Opis 6, Delo 849, ll 28, List of American Comrades that have been Repatriated as per October 15 1937; USSDA 2:1040, 61:0823; (obituary) Jim Skillman, "Bill Wheeler," The Volunteer, Volume 21, No. 2, Spring 1999, p. 18. Code A
---
Biography: A native of upstate New York, William (Bill) Gilmore Wheeler was a Teamsters' union activist when he sailed for Spain on December 26, 1936, among the first contingent of U.S. volunteers. A few weeks later, in the Americans' baptism under fire on February 12 at Jarama, Bill earned a field commission as a lieutenant. Ten days afterward he received a leg wound at Morata. After recovery, Bill was transferred in May to the newly organized Mackenzie-Papineau Battalion. He fought at Fuentes in October as commander of Company One. Bill was one of the eight Americans ordered home for medical needs and propaganda purposes in the spring of 1938. Seven of them returned to Spain when the Republican Army was preparing for the recrossing of the Ebro after its costly April withdrawal. Bill rejoined the Lincolns as a company commander and served with distinction through the Caballs and Pandols battles. Returning home for the second time in December 1938, when the Republic disbanded the International Brigades, Bill went directly to organize farmworkers in Marysville, California. That resulted in an arrest for violating the state's anti-picketing law and a 39-day jail stint without a trial. He then sued the sheriff for false imprisonment and was awarded $300. It provided a nest egg for organizing the workers, who delivered telephone books. Bill and his wife Ione eventually moved from the west coast to Atlanta where he quickly became a stalwart among the ALBA activists in their work to make known the history and carry on the traditions of the Americans who fought in the Spanish Civil War. Wheeler died in Atlanta, Georgia, on December 28, 1998, at the age of 88. - Jim Skillman
---
Photograph: Lieutenant William Wheeler, Company 4, Lincoln-Washington, September 1938. The 15th International Brigade Photographic Unit Photograph Collection; ALBA Photo 11; ALBA Photo number 11-0243. Tamiment Library/Robert F. Wagner Labor Archives. Elmer Holmes Bobst Library, 70 Washington Square South, New York, NY 10012, New York University Libraries.