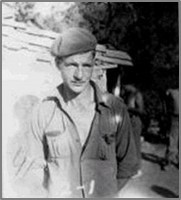 Biography
Bailey, William James
(Bailey, Michael); b. January 23, 1910 Jersey City, New Jersey; Irish American; father William Gulielmus Bailey (1876-?), mother Elizabeth Nolan Bailey McKeever (1881-?); Parents emigrated, Family of 13, only 6 of whom lived beyond childhood; Education through the 4th grade in a Catholic School; Single; Seaman and organizer for the CP; CP March 1934, organizer in Hawaii for 8 months; Received Passport# 29017 San Francisco series on June 4, 1937 which listed his address as 191 (198) 11th Avenue, NYC; Sailed June 16, 1937 aboard the
Aquitania;
 Arrived in Spain via Espolla on June 28, 1937, entered the IB on June 31, 1937, Served with the XV BDE, Mackenzie-Papineau BN in training, transferred to the Lincoln-Washington BN, Machine gun company, rose to rank of Company Commissar, later to the Auto Park, last unit was Lincoln-Washington BN, MG Co.; rank Cabo; Returned to the US on December 20, 1938 aboard the
Ausonia
; WWII served in the Merchant Marine; wife Ruth M. Bailey (1910-?), son Michael Bailey (1950-?); d. February 27, 1995, San Francisco, California, cremated ashes scattered in Belchite; Gained notoriety for having ripped the Nazi flag from the
Bremen
.
---
Siblings:
brothers John Bailey (1906-1980), Michael Bailey (1915-1980), sisters Isabelle Elizabeth Bailey (1905-1975), Catherine Bailey (1907-?), and Alice Bailey (1919-?).
---
Source:
Sail; Scope of Soviet Activity; Cadre; Figueres List; Inventory North Americans; XV BDE, RGASPI; Harriman Video Collection, ALBA 48, 10, February 27, 1985 [talks about impact of Paul White's execution]; Good Fight B, C, E, F, H, & G; Harriman; (obituary)
The Volunteer
, Volume 17, No. 1, Spring 1995, p. 4; William Bailey,
The Kid From Hoboken
; L-W Tree Ancestry; Find-a-Grave #201558065. Code A
---
Biography
Bill Bailey, described by Harry Hakam "as the biggest guy in the battalion," was renowned before his involvement in the Spanish Civil War for removing the Nazi flag, in 1935, from the
S.S. Bremen
while it was in port in New York City. Bill Bailey, the son of Irish immigrants, was born in Hoboken, New Jersey, in 1909. He became a sailor and the bad conditions he endured encouraged him to join the Industrial Workers of the World (IWW). In 1930 he joined the Marine Workers' Industrial Union and the American Communist Party. In 1934 Bailey became an organizer of the longshoreman for the party but became bored and in 1935 returned to work as a sailor. While in Italy he observed the reality of fascism and returned to the United States with a desire to become more actively involved in the struggle against what he believed was an evil philosophy. In July 1935 Bailey was arrested and beaten after he boarded the German ship
Bremen
and attempted to destroy the swastika flag that it was flying. With the support of the radical congressman Vito Marcantonio, Bailey was acquitted of all charges. On the outbreak of the Spanish Civil War, Bailey joined the Abraham Lincoln Battalion, a unit that volunteered to defend the Popular Front government against the Nationalist Army. Bailey fought at Belchite where he managed to capture a red and yellow fascist banner that he sent to the Maritime Federation of the Pacific in San Francisco. By the time he began his correspondence with Marjorie Polon, a New York City teenager, he had been in Spain nearly a year as a member of the seamen's machine-gun company. Bailey met Polon, and continued to correspond with her after his return from Spain. After the outbreak of the Korean War, Bailey, as a member of the American Communist Party, was blacklisted and unable to work as a seaman. In 1953 he began work as a longshoreman, retiring in 1975. Bailey was featured in several documentary films including
Seeing Red
,
The Good Fight
,
Growing Up in the Depression
,
Between the Wars
,
The Spanish Civil War
and
The UnAmericans
. He eventually became disillusioned with the policies of Joseph Stalin and left the party. He remained a socialist. Bailey wrote his autobiography,
The Kid From Hoboken
in 1993. He died in San Francisco on 22nd February 1995. - Courtesy of Tamiment Library, NYU and Spartacus Educational. View the finding aid to the Marjorie Polon papers which include letters from Bill Bailey. Also see the ALBA Digital Library.
---
Bill Bailey Interview
, ALBA V 48-010 (Mixed Materials), February 27, 1985, Manny Harriman Video Oral History Collection; ALBA VIDEO 048; box number 1; folder number 23; Tamiment Library/Robert F. Wagner Labor Archives, New York University.
---
Bill Bailey Interview
, August 8, 1980, John Gerassi Oral History Collection; ALBA.AUDIO.018; box number 1 ; folder numbers 18-003 to 18-007; Tamiment Library/Robert F. Wagner Labor Archives, New York University.
---
Photographs:
Bill Bailey in Spain, RGASPI Fond 545, Opis 6, Delo 860; Below two photographs from his 1937 Application for a Seaman's Protection Certificate, L-W Tree Ancestry.; William Bailey 1982, by Richard Bermack.
---