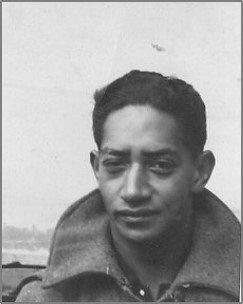 Biography
Baker, William Kwanaekoa
(William James Baker), b. July 9, 1909, Honolulu, Hawaii, Hawaiian-Pacific Islander, American; father David Kaluhi Baker (1861-1927), mother Ester Kalaukoa (1867-1914); 1 year Civil Engineering, St. Louis College, Honolulu Hawaii in 1932; Served in the US Coast Guard, 1927-28, 1.5 years, Rank 1st Class Coxswain, served aboard ship 333; Single, Truck Driver, Deep Sea Diver, and Seaman (SUP), Packing House Union, Teamster's Union, no political affiliation, applied to join the CP in Spain, Sailors Union of the Pacific; Received Passport# 30693 on July 24, 1937 which listed his address as 2369 Lehar Street, Honolulu, Hawaii and 190 Embarcadero, San Francisco, California; Sailed August 7, 1937, aboard the
Georgic
(
Aquitania
), Arrived in Spain via Massanet on August 19, 1937; Trained at Torcillo Training Base; Served with the XV BDE, Lincoln BN, Co. 1; WIA Brunete bullet through jaw; later to XV BDE Auto Park; Served at Brunete, Quinto, Belchite, Teruel, Aragon, and Ebro; Rank Soldado; Was in Co. 2 at Ripoll; Returned to the US on December 20, 1938 aboard the
Ausonia
; Married Kathleen Louise Holdaway (1928-2011) in 1950 in Illinois, son Stephen Baker (1951-), daughter Chris Holdaway Baker (1954-); d. December 29, 1956, Miami, Florida.
---
Sibling:
brother George Washington Kaluhikaopulupulu Baker (1885-1949), Frederick W. Baker (1889-1907), David Pahinui Baker (1902-1985).
---
Source:
Sail; Scope of Soviet Activity; Figueres List; Inventory North Americans; RGASPI Fond 545, Opis 6, Delo 860, ll. 63-70; (obituary) The Miami News, January 3, 1957; L-W Tree Ancestry. Code A
---
Biography
William Kwanaekoa Baker was born in Honolulu on July 9, 1909. Before going to Spain Baker was a seaman and drove a truck in San Francisco. Baker departed for Europe aboard the
Georgic
on August 7, 1937. He initially trained as a light machine gunner, but due to the shortage of skilled truck drivers, Baker was assigned to the Albacete auto park. He later transferred to the transport section of the XVth International Brigade where he remained until the international volunteers were repatriated. Baker returned to the United States aboard the
Ausonia
on December 20, 1938. ~ Chris Brooks
---
Photographs:
William Baker in Spain, Fond 545, Opis 6, Delo 860, ll. 63; and below Baker, Auto Park, April 1938.The 15th International Brigade Photographic Unit Photograph Collection; ALBA Photo 11; ALBA Photo number 11-0145. Tamiment Library/Robert F. Wagner Labor Archives. Elmer Holmes Bobst Library, 70 Washington Square South, New York, NY 10012, New York University Libraries.
---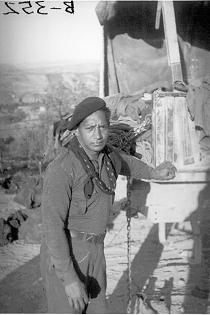 a