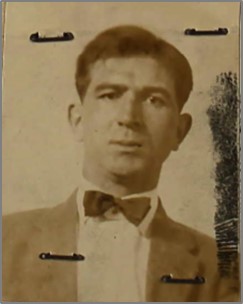 Biography
Lux, Vilmos William. b. August 22 (28), 1898, Kötese, Hungary, to the US April 1914; Hungarian American, to the US 1914; father William deceased; Elementary education; Single; Auto worker (Cadillac Motor Co.); Received Passport# 367608 on February 10, 1937 (February 11) which listed his address as 8365 Thaddeus, Detroit, Michigan, and Ohio; CP November 1932 Toledo, Ohio; Sailed March 17, 1937 aboard the President Roosevelt; He was refused permission to land in France after the authorities determined that he lacked adequate funds; He returned to the US on April 9 (17), 1937 aboard the President Roosevelt; He made a second successful attempt to reach Spain arriving in Figueres on October 15, 1937 via Espolla; Returned August 13, 1938 aboard the President Roosevelt; d. February 17, 1987, Kalamazoo, Michigan.
---
Sources: Sail; Scope of Soviet Activity; Figueres List; RGASPI Fond 545, Opis 6, Delo 342, ll. 44-45; L-W Tree Ancestry.
---
Photograph: Vilmos William Lux, from his application for a Seaman's identification card.