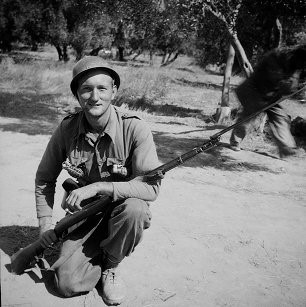 Biography
k-Miller, William Newton
. (Muller, William Menton); b. June 4, 1915 Dayton, Oregon; Father Newton O. Miller, mother Mallie R. Miller; Single; Seaman; CP 1934 (1933) and YCL 1934; Received Passport# 28539, San Francisco series, on May 24, 1937 which listed his address as RFD#1, Dayton, Oregon; Arrested on June 20, 1937 when the vessel he was traveling to Spain on, the
Joven Teresa
, was intercepted by the French aviso
Granit
near Port-Vendres; Arrived in Spain via Massanet on June 22, 1937; Served with the XV BDE, Mackenzie-Papineau Battalion; Lincoln-Washington BN, Co. 3; Killed in action September 7, 1938, Sierra Caballs, Ebro Offensive; Believed captured and executed; USDDA includes sworn statement by Gerald Cook, William G. Wheeler and Herman Klein:
"We. The undersigned certify that the men named below were members of the third company of the Lincoln Battalion in Spain and were captured by the Franco forces on the 7th day of September, 1938, on the sector of Corbera. We know these facts to be true as we witnessed the entire affair, having been members of the same unit and barely escaping ourselves after having been completely surrounded. These men are: Irving Rifkin, James Pearce, Jack Arnold, Pat Garafalo, Wilbur Wheeler, Thomas Hardy, Sam Grossner, William Miller, Leonard Holtzclaw."
---
Siblings:
brother Melvin L. Miller (1918-?); sisters Laverne M. Miller (1920-?), Lenna Miller (1927-?).
---
Sources:
Scope of Soviet Activity; Cadre; Figueres List; Mac-Paps; USSDA 2:0770, 57:0653; (sworn statement) USSDA 2:0865, 59:0211; Pacific NW; L-W Tree Ancestry; Joven Teresa list from a letter from Jean Massé to Jim Carmody dated November 30, 1988. Code A
---
Photographs:
William Newton Miller, September 1937. The 15th International Brigade Photographic Unit Photograph Collection; ALBA Photo011; ALBA Photo number 11-0606. Tamiment Library/Robert F. Wagner Labor Archives. Elmer Holmes Bobst Library, 70 Washington Square South, New York, NY 10012, New York University Libraries; and from his 1936 Application for Seaman's Prtotection Certificate, L-W Tree Ancestry.
---