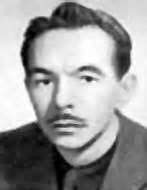 Biography
Gresham, William L (William Lindsay Rafferty, William Rafferty); b. August 20, 1909, Baltimore, Maryland; Father Henry H. Gresham, mother Aline Gresham (1885-?); Married; Writer and Folk singer; CP November 1936; Received Passport# 477249 on September 21, 1937 which listed his address as 1707 H Street North West, Washington, District of Columbia, and 7826 4th Avenue, Brooklyn, New York (14 Christopher Street, NYC); Sailed October 9, 1937 aboard the Vollendam; Arrived in Spain via Massanet on November 3, 1937; XV BDE Base of Instruction; Then to 35th Battery, 4th Group Artillery, and remained with the unit when it was turned into and Anti-Aircraft/Anti-Tank Battery attached to the 129th BDE, Reconnaissance and Topography; Rank Soldado; Returned to the US on February 4, 1938 aboard the President Harding; Married Helen Joy Davidman (1915-1960) on August 24, 1942 in Peterborough, Hillsborough, New Hampshire; d. September 14, 1962, NYC, suicide.
---
Sibling: half-brother Henry L. Gresham (1918-?).
---
Sources: Sail; Scope of Soviet Activity; Cadre; Figueres List; RGASPI Fond 545, Opis 6, Delo 902; USSDA 2:0603, 55:0114; L-W Tree Ancestry; Find-a-Grave #186774795; Wrote Nightmare Alley. Code A
---
Photograph: William L. Gresham. Photograph from thewayofthefuture blog.